News
Utrecht hosts European Society of International Law (ESIL) Conference 2022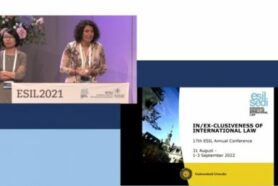 On 31 August-3 September 2022, the Utrecht University School of Law will host the 17th Annual Conference of the European Society of International Law (ESIL). The main theme of the conference will be 'In/Ex-clusiveness of International Law'. Seline Trevisanut, Cedric Ryngaert, and Machiko Kanetake have presented the theme at the end of the 2021 Annual Conference of the ESIL.
The main part of the conference takes place from 1 September to 3 September 2022, which will be preceded by Interest Groups' meetings on 31 August and 1 September. The conference is designed to foster critical reflection on the historical, political, and economic baggage of international law. The conference will also pay attention to the in/ex-clusiveness in university curricula and legal careers. By discussing the theme in various fields of international law, the Utrecht conference will provide participants with an opportunity to revisit some of the underlying assumptions about international law, practices, and theories.
The call for papers and related information will be made available soon on this website.